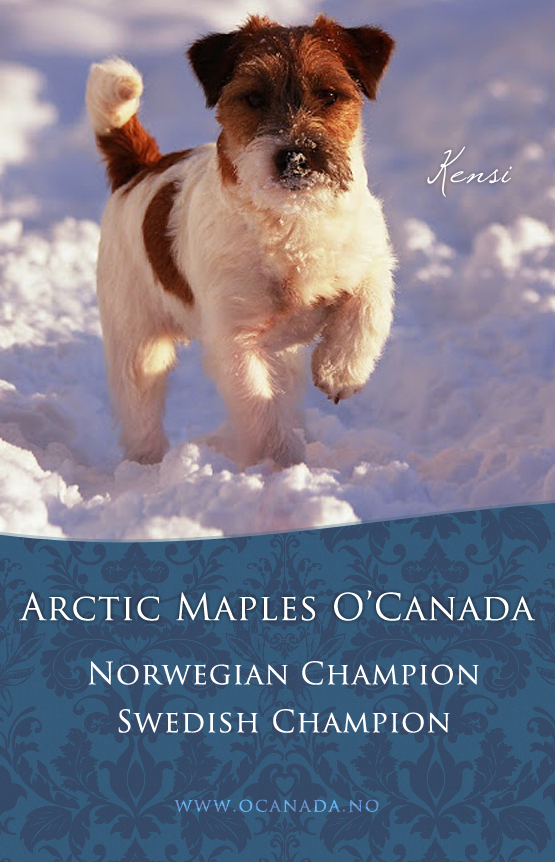 N SE UCH Arctic Maples O`Canada
Kensi
Reg.nr: NO37157/12
Født: 11.03.2012
Farge: Hvit/tan
Pels: Stri
Høyde: 28cm
Bitt: Saksebitt
Patellaluksasjon: 0/0
PLL: Free by DNA test
Fra utstilling: Excellent, CK, Cert, BIR, BIM og CACIB.
Kensi er Norsk utstillingschampion (N UCH)                                                                                           Kensi er Svensk utstillingschampion (S UCH)
Kensi is the first born puppy here at ArcticMaple, and she is a true sweetheart. She is very beautiful, both inside and outside. She is friendly and kind to everybody she meets, and she is a very devoted mother to her puppies. Kensis mother is Norwegian champion Fresh Field's Morningstar Maud (Madde) , she is imported from the Netherlands. Her father is multichampion Kanix Fast Track (Riff) from Denmark.
Mother: Norwegian Champion Fresh Field's Morning Star - MADDE
Father: Multichampion Kanix Fast Track